Book Club with Dr Kerry Howells, author of Untangling you: How can I be grateful when I feel so resentful? and Gratitude in Education: A Radical View.
Book club is an opportunity to read and reflect both individually and as a group. To date there have been over 20 book clubs organised around Gratitude in Education: A Radical View. Research on these has demonstrated that this is an effective and supportive means of personal development, professional learning, and creating a community of practice.
The unique feature of this book club is that it will be facilitated by the author of the books, Dr Kerry Howells, who has researched the topic of gratitude in a range of contexts for the past 25 years. You can read Kerry's recent blog which details her research on the book club process.
It's for anyone who wants to dive deeply into the meaning of gratitude and its relevance for their personal and professional life. This includes leaders, educators, health workers and other professionals, parents, researchers, academics and gratitude enthusiasts.
Unless in Hobart, book club will be conducted via Zoom and so you can participate from anywhere around the world.
Your preparation for each session will be to read the nominated chapters and to choose a gratitude practice that you will implement in between sessions.
There will be four sessions of 1.5 hours over a three-month period.
Book clubs are ideally organised around the participation of at least 8 people and a maximum of 12. You can gather people from your organisation or others who might want to join with you who have a similar interest or profession. Please contact Kerry for further details.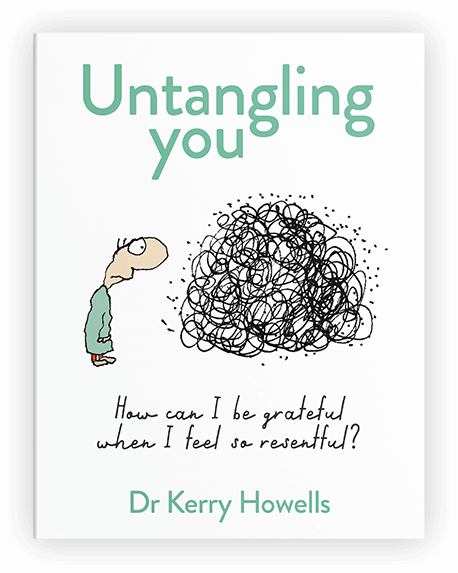 Untangling you: How can I be grateful when I feel so resentful?
This book is written for a general audience so the relevance and reach of the book is very broad. It has been critically acclaimed by elite athletes and coaches, leaders and leadership developers and coaches; therapists; HR managers; educators, gratitude researchers and authors.
"In this book Kerry Howells tackles a perplexing issue that humans must face in social life, but which scholars and philosophers have understood poorly – how to disarm complicated feelings of resentment and replace them with gratitude."
Associate Professor and Gratitude researcher, California State University, co-author of Making grateful kids: The science of building character
Topics covered in book club:
Why gratitude and why is it important when we feel resentful?
What is resentment and what are its underlying causes?
How can we address resentment through our practice of gratitude?
How can we deal with another's resentment towards us?
How can we acquire the skills to address our resentment directly with the other person?
Why is it important to consider the cross-cultural elements of gratitude and resentment?
How can we lead, teach, parent, relate with gratitude so that resentment has less of a chance to take hold?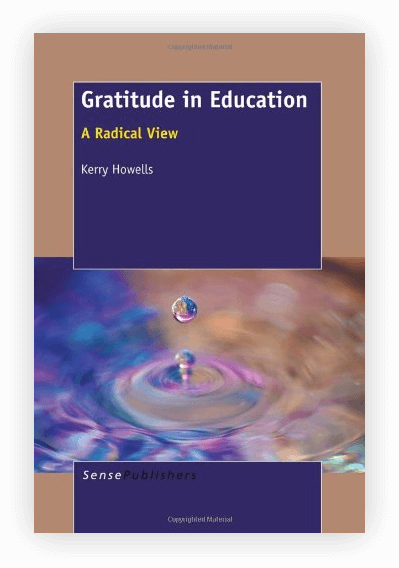 Gratitude in Education: A Radical View.
All those participating in education will find this book highly relevant and useful – school leaders, teachers, parents, academics, teacher educators, and administrators.
"Changing the construct of a teacher from one who imparts knowledge and gives of themselves to one who is thankful for what they receive and then turns gratitude into action is, as the author says, a radical view…"
Adjunct Professor, School of Education, University of Western Sydney.
Topics covered in book club:
Why is gratitude important in the context of education?
What does research say about the potential of gratitude for student learning and engagement?
How can gratitude activate a true dynamic of giving and receiving in the education system?
What is 'gratitude as a practice' and how can you implement this in your daily life?
How can gratitude help you overcome a tendency towards perfectionism?
How can you navigate difficult relationships with gratitude and why should you?
How can gratitude help us when we are going through challenges?
What are some effective ways of introducing gratitude to students?
"I really loved the book club model/process…Although each member came to the group with a different set of circumstances, needs and perspectives, a very genuine sense of empathy, respect and camaraderie was evident from the very first session."